Zimbabwe, Homo Erectus, Boskopoid, Khoi-Khoi, Hottentot, Gokomere, Bushman | Harare, Masvingo, Great Enclosure, Mutirikwe Gorge | Hwange, Hwange Nat.Park | Victoria Falls, Botako Gorg, Zambezi | Botswana, Chobe | Lupane, Bulawayo, Powangwe cave | Beitbridge |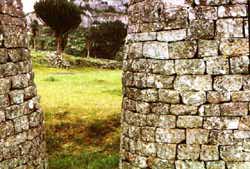 The human history in Zimbabwe extends back through the millennia to the first rumblings of humanity on earth. Continuing controversy amongst scholars makes it difficult to determine the latest opinion on who evolved into whom, but most accept that the earliest human-like creatures were a group op upright-walking hominids who became established nearly four million years ago in the savannas of southern and eastern Africa. At least one advanced variety of these small creatures developed rudimentary tool-making abilities around 1.3 million years ago, allowing people to hunt rather than just scavenge for food. This, combined with a series of climatic changes, led to an increase of brain size, changes in body form and a growing population.The next clearly identifiable stage is an early form of human called Homo Erectus, whose camps and stones are found scattered throughout the region. One archaeological site provide evidence that these early people were hunting the ancestors of present-day elephants and butchering their remains with stone hand-axes as early as 750,000 years ago. The tools of the era were large and clumsy, but by 150,000 years ago, people were using lighter stone point, projectile heads, knives, and other finer tools useful for much various hunting and gathering activities. By the middle Stone Age, which lasted until 20,000 years ago, the Boskopoid people, the primary human group and presumed ancestry of the present-day San, or Bushmen, had progressed into an organized hunting and gathering society. Use of fire was universal, tools - now made from wood and animals products as well as stone - had become more sophisticated and natural pigments were being used for personal adornment. Between 20,000 and 30,000 years ago they made sudden and significant progress in their standard of tool manufacture. Tools became smaller and better designed and this greatly increased hunting efficiency and allowed time for further innovation and artistic pursuits. This stage is known as the microlithic revolution.. When and from where the Khoi-Khoi (Hottentot) arrived in this region is not clear, but around 10,000 years ago people began to producing pottery and drawings and occupied rock shelters and caves all over southern Africa. Specific for the Khoi-Khoi are the enormous bottoms of their woman (Steatopgygie). The San seem to have come under pressure from the Khoi-Khoi. The Khoi-Khoi were tribally organized people who raised stock rather than hunted and who were probably responsible for the region's first pottery production. During the late Iron Age, between 2300 and 2400 years ago, rudimentary farming techniques appeared on the plateaux probably from Bantu speaking migrants fleeing the advancing deserts of northern Africa. Between 500 and 1000 AD, the Gokomere and subsequent groups developed gold-mining in the region and produced progressively finer quality ceramics, jewellery and soapstone carvings, Cattle ranching became the mainstay of the community and the earlier San groups disappeared from the scene. As early as the 11th century, some foundations and stonework were already in place at Great Zimbabwe and the settlement, generally regarded as the nascent Shona society, came into contact with Swahili traders. They traded African gold and Ivory for glass, porcelain and cloth from Asia; Great Zimbabwe became the capital of the wealthiest and most powerful society in Africa. By the 15th century, Great Zimbabwe's influence had crested and begun to decline. Although reasons for its ultimate desertion remain something of a mystery. From mid 1500 first the Portuguese, later on the Zulu's and de Boers from South Africa and finally the British plundered the country.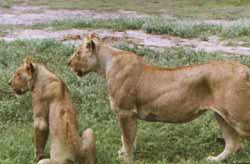 Our trip started in Harare the capital of Zimbabwe and began with an unexpected surprise that Dutch visitors, since 1-12-98, have to pay USD 30,00 for a visa. Harare is a modern uninspiring city and the next day we traveled via Kweko and Gweru to Masvingo, the very nice situated Great Zimbabwe lodge close to the Great Zimbabwe National Monument. In the 11th century came the first society to occupy the great Zimbabwe site. The construction of their first project, the royal enclosure on the hill complex commenced sometime during the 13th century. Despite the beauty of the ruins, the remains do not provide evidence of superior architectural skills and it seems that only a sketchy overall plan was devised before work began. At its height, Great Zimbabwe was a thriving city of at least 10,000 inhabitants. You don't expect such big stone city in the dark of Africa.
The 305-metre-wide Mutirikwe dam wall blocks the impressive Mutirikwe Gorge, forming lake Mutirikwe as part of a scheme to irrigate the parched low field and allow cultivation as cotton and sugar cane. A trip over the lake to observe the surrounding scenic area is worthwhile and combines nicely with the visit to Great Zimbabwe.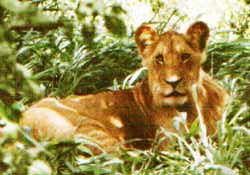 The way from Masvingo to Bulawayo is nice but from Bulawayo to Hwange is a long monotonous trip over the highlands, with very tame scenery. Many kilometers with nothing more then lined Eucalyptus or Fir trees without any interruption is really dull. These fast growing trees are economically a success but contaminate the landscape. Our destination is the Hwange Safari Lodge set on the main road into Hwange National Park. The patio overlooks the hotel's private pan where assorted locals lumbering up for a drink. Kudu, Elands, Impala's, Waterbucks, Giraffes and Zebras are common, and Elephants and Buffaloes visit occasionally, we had luck to see an Elephant. Very early in the morning we have made a game drive through this beautiful park, but because the grasses stands very high we saw not so much animals. January is the African summer and raining time, and not the best time for successful game drive.
surf to -www.mediazw.com- for more information.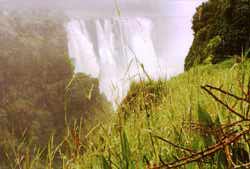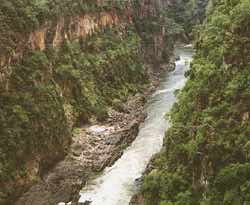 From Hwange we travelled to Victoria Falls were we stayed in Elephant Hills Hotel. The world-famous Victoria Falls, 1708 meters wide, drops between 90 and 107 meters into the Zambezi Gorge. An average of 550,000 cubic meters of water plummet over the edge every minute, but during the flood stage, up to five million cubic meters per minute pas over the falls. This is what film manufactures had in mind when they dreaming big, many many kilometers of film and videotape are gobbled through cameras every year here. Although it's a long way from the kitsch curio shops, traditional dance shows, reptile parks, adrenaline sports, buzzing and low-flying aircraft and zebra-striped tour buses all nurture the carnivalesque tourist jungle that has sprouted and taken root in the city. Fortunately, the star attraction - Victoria Falls itself - is safely cordoned off by a real jungle of its own creation. To walk along the paths through the spray-generated rainforest that flank the gorge, you'd never suspect the existence of anything other than the monumental waterfall that's giving you a good soaking. Its really an experience to see, feel and hear the thundering water surrounded by a tropical jungle full of birds, mosquitos and monkeys , Mosi oa Tunya smoke that thunders called by the Makalolo people. One of the most dramatic is Cataract View, the westernmost point, which requires climbing a steep stairway. Another track is aptly named Danger Point, where terraces of soaking and slippery moss-covered rocks and a sheer and unfenced 100-metre drop-off conspire to rattle your nerve as you approach the stunning and frightening view into the First Zambezi Gorge. From Danger Point you can follow a side track for a view over the gracefully precarious Zambezi Bridge which connects Zimbabwe with Zambia. Before setting off for the falls, spend a minute thinking about water and the effects it will have on your camera equipment and other valuables. You can get a one day permit for a walk over the old Zambezi bridge (1905) and see 100 meters below in the Botako Gorge the roaring Zambezi river with some little people in rafts working very hard to remain inside. On the bridge hundreds locals with goods are waiting for transport and if you are lucky a train with a very old steaming locomotive.
The Spencer Creek Crocodile Ranch is a touristic but nevertheless very interesting attraction. 5000 crocodiles of all sizes, bred on this ranch, are waiting for their return into the Zambezi river to eliminate vis-eating animals. Don't visit this ranch if you have in mind to do some white water rafting otherwise you will be so afraid that you change your plans.
surf to -www.vfsl.com- fir more information.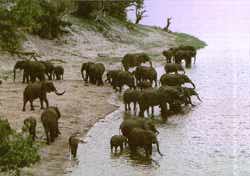 We planned a one day Safari in Botswana. A morning river cruise and an afternoon 4WD safari in the Chobe National Park which was perfect organized byodyssey@info.bw. Very early in the morning they picked us up for a fast and quick drive through Zambesi Nat. Park to the Botswana border where a 4 WD was waiting to bring us to a small riverboat. The small boats are preferable to the larger ones because they accommodate smaller groups and can move in for goods views of the animals without alarming or endangering them. The Chobe river flowing on the border of Botswana and Namibia and have a beautiful interesting riverfront where massive Elephants destroying the bush or take a bath in the river between couples of Hippo's, Crocodiles which are protecting their babies, Zebra's and many different antelopes. The variety and abundance of bird life in this zone of permanent water is remarkable. After a very good lunch we started with our afternoon game drive in the Chobe game park. As far as wildlife is concerned, the Chobe Riverfront is the park's most densely inhabited area, and here, it may seem the word "wildlife" is synonymous with "Elephant". We saw herds of up to 400 Elephants which is really a exciting view. The Botswana government bans hunting in the hope that the pressure on the riverfront vegetation would decrease the elephants, but the population is still booming. Also Lions, Buffalo's, Giraffes and a great variety of antelopes are walking around. Except the Rhinoceros we have seen the Big Five during this five hours afternoon game drive.
see www.gov.bw
en www.interknowledge.com for more information.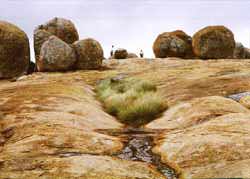 On the way back to Bulawayo we visited in Lupane a kraal (a fortified family village of round African style huts) with Rondavels by family Ngwenya to have a small talk and to see how they are living. Only the oldest daughter is going to school and speaks a little bit English, for the other children is no money available. A problem is that children needs school uniforms and that is expensive. Very friendly people which are proud showing you their livestock, maize, chicken and a goat. Some money or a present is highly appreciated. In Bulawayo we stayed in Holiday Inn hotel from where we visited Matobo National Park. Bulawayo (the killing place) was once head-quarter of the Matabele King Lobengula. You need not be in tune with any alternative wavelength to sense that the Matobo Hills are one of the world's playing places of the children from deity's. Thousand-tonne building blocks, stacking precariously into fanciful castles and towering imaginary cities, populating with stone-faced human figures. Its no wonder that it is called a spiritual capital. Close to these balancing stones is a memorial for Rhodes and Shangani Memorial of the Matabele war from 1893.
After some scramble over a steep hill you will reach the Powangwe cave with wonderful drawings from the bushman. Unfortunately, were the oldest drawings are (from 35,000 BC), remains only splotchy brown stains and one Kudu that escaped the stupid mistake to preserve these drawings with shellac. The remaining drawings are dated around 6500 BC.
To tell the story of rail in Zimbabwe, the Railway Museum houses a collection of historic steam locomotives, old railway offices and buildings, passenger carriages and a model of a historic railway station. We didn't visit the Museum of Natural History because foreigners have to pay USD 10.00 and that is to much. Close to the Bulawayo Publicity Association is a good and cosy souvenir market (bargaining is necessary) and a really good coffee shop Two Sisters.
From Bulawayo we traveled via Gwanda to Beitbridge. Where we leave Zimbabwe for our trip through South Africa. The scenery in this area is more various and interesting. To cross the border to South Africa is a chaotic happening and you need a lot of humor and patience. An exchange-office is unknown, and the whole border looks like a prison with everywhere electrified barbed wire. If it is not too hot, it is a good idea to walk the long new Beitbridge into South Africa.